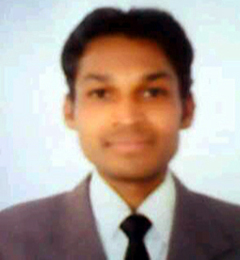 Devnath Raghuwanshi is the Pastor of Celestial Grace Temple in Uttar Pradesh, India.


Pastor Raghuwanshi is a B.A. Graduate in Theological Study and is a sanctioned Minister with Celestial Grace Ministry and the Kurios Welfare Society. He oversees church plantations in 35 villages and nurtures a parish of more than 100 parishioners that includes a widow's care, youth and orphanage ministry and also ministers online on the internet.

Pastor Raghuwanshi teaches the words of God from the Old and New Testament Bible and offers a Christian doctrine to Hindus and Muslims throughout India.

He also teaches spirituality, meditation and how to achieve inner peace within your mind and soul.

I feel everyone wants to have a joyful and fulfilling life and to achieve their dreams and desires. If you put God first in your life, then all the things you desire become possible, and each day of your life can be filled with joy.

No matter how much wealth, material possessions or social prominence that you have or that you may achieve, those things along cannot bring you a peaceful, fulfilling, joyful life; spiritual growth and enrichment are needed as well.

I invite you to become a member of Celestial Grace Ministry, It will open the door for you to focus on increasing your spiritual wisdom so you can overcome problematic life issues, avoid immoral activities and emotional pitfalls that can disrupt your life; and above all, to gain inner peace and the assurance of salvation, resurrection from death and the gift of eternal life.

May the Grace of God be upon you always.

Sincerely,

Pastor Devnath Raghuwanshi

Celestial Grace Ministry

H.N.253 Makkhanpur
Tehshil :- Shikohabad
District :- Firozabad
Pincode 205135
Uttar pradesh India

Facebook Ministry: facebook.com/Devnath Raghuwanshi

Ministry Office: +91-9520195258

Cell Phone: 9917049790

devnath@celestialgrace.org

pastordevnath46@gmail.com