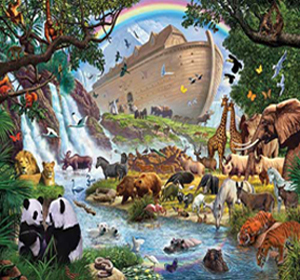 We offer you this unique audio and image gallery which displays a collection of animals that are believed to have been placed on Noah's Ark by God. No one knows for sure the exact number of animals: mammals, birds, reptiles, insects, crustaceans and microorganisms that were placed on the ark.
From Biblical scripture God stated: (Genesis: 6:19) of every living thing, of all flesh, you shall bring two of every kind into the ark, to keep them alive with you; they shall be male and female.


(Genesis 6:20) of the birds according to their kinds, and of the animals according to their kinds, of every creeping thing of the ground according to its kind, two of every kind shall come in to you, to keep them alive in the Ark.


Based on the number of animal species in the world today, there must have been well over a thousand animals placed on the Ark.